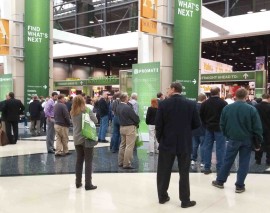 I am writing this blog just one day before I head out to a major conference in Chicago. Again. It is my hope to help you get the most out of spending precious time attending at trade show event.
Have you ever walked around the Javitz Center in New York or the McCormick Center in Chicago, wondering where to start? Wondering why you're there? Then you wander without a purpose, which can end up as a big waste of time and money. How do you possibly get what you need to from this event that consumes 3 city blocks or 1.2 million square feet?
Here are some of my hacks, tips and tricks to get the most from being an attendee at a trade event,
Before you go to the show:
Know your goals and make brutal prioritization. Who do you absolutely need to see? Who at the show will make you money, save you money, connect the dots or help you push forward with that new start up idea? Make your list, and see them first.
Use the organizer's web site. Identify the companies, products and brands of interest to you exhibiting at the show. Use your key words to discover new and innovative companies and new technologies that fit with your sales and marketing strategy. And maybe some that don't!
Make appointments. Before you get on that flight. Because everyone has to eat, so make breakfast, lunch and dinner appointments with your key people you want to connect with.
Make dinner reservations Even if you don't have confirmed appointments. Attendees and exhibitors often forget this important detail and end up eating in their hotel. When you bump into some of your potential clients or partners, offer up an invitation, telling them you have a reso and see if they have a client that they would like to include.
Print the floor plan. Before you leave. Think ahead about the best way to work the floor after you've identified your priority connections. I have walked miles at shows, and a well thought-out visit plan can save you a lot of energy and time.
Download the mobile application. Many organizers have mobile apps to download to your phone. It is one of the tools that will keep you plugged into the events and any last minute changes at the show. See if there is an arranged networking event or a party being offered, that will help you achieve your goals. If you do not know many people at the event, find a wingman (or woman!) who is "connected" and elicit some help.
Plug into Social Media. Use the power of social media to find out who is going to the event. My peers on LinkedIn post that they are going to an event and invite others to direct message them to meet. You can also send an email blast to colleagues that may be attending or who may have a booth at the show, to see if they may have a need to meet with you.
Know the venue. I am just now headed to the McCormick Convention Center. I know the place a little too well and I know where to store my luggage, to catch a cab, which food restaurants to avoid and where the shortest Starbucks lines are. You can use sites like TripAdvisor or others to learn about the venue, or get there early to familiarize yourself.
Planning Is Key
Optimize your flight path. Trade shows are places where walking from booth to booth or across a large hall will waste a lot of time, and time is money. Organize your walking path for optimum exposure. Remember that certain halls fill up slowly and show organizers know this. They often will open the "North Hall" an hour early at 9 AM and open the rest of the show at 10 AM. Take advantage of this and go early when you can cover lots of ground with minimal crowds.
Avoid line-ups. Get to the trade show early and pick up your name badge as early as possible. If one of the halls is open early the show organizers will likely have a badge printing station there (exhibitor registration). Many organizers schedule buses from hotels and they fill up early, so grab your coffee and get on!
13 Trade Show Guerrilla Tactics
1. Never eat alone. Always have meals with clients or prospects. But this should be easy because you made reservations already. Go out with clients and not with your staff. You can go out to dinner with them anytime.
2. Networking and meeting new people are one of the most important goals of going to face-to-face marketing events. Make this priority #1.
3. Don't waste time talking to people or suppliers that are not adding value. Break out of conversations early.
4. Be friendly and talk to everyone. The selling and networking does not stop just because the show has ended. A simple "How did you like the show?" can go a long way. Sharing cabs with other attendees when possible is a great place to start conversations. I often have conversations on elevators or in line, when I cannot avoid the line-up.
4. Exhibitors get access to the show hall approximately two hours before the show opens. 10 AM start bring the exhibitor crowd in bright and early at 8:00. If you have a friend who is an exhibitor, see if they will print you an exhibitor pass and use it to scout the show, get your bearings and get two extra hours of networking at the show.
5. Remember that selling to exhibitors at trade events is prohibited by all organizations than run and organize shows. It can get you expelled and exhibitors that pay thousands and thousands of dollars to exhibit go crazy over this. Networking however, is always encouraged.
6. Bring lots of business cards. You would be amazed at the number of people that run out of business cards at events. Write action items on the back of the business cards that you meet.
7. Lunch is a time-sucker. If you can't make the best use of it by taking a prospect out, think "fill the hole". Rather than bad and bad for you fast food bring a yogurt and some cheese and fruit from the hotel. Almonds are my wife's favorite snack. A low in fat source of protein, they stay with you until you have time for a real meal.
If you find an exhibitor that is giving out water, coffee or fruit, remember the booth number. There is a special place in heaven for them because they may save you from your blood sugar crash.
8. Lighten your load. Most trade shows have a desk that you can check your coat, briefcase or suitcase. They charge by the bag, usually just $2 or $3. There is no charge to come back and load your bag up with swag and other take aways you've collected at the show.
10. Wear comfortable shoes. Convention center floors are concrete and after a day or two of schlepping around, your dogs will feel it! Make sure your shoes are sensible.
11. Check the weather and make sure to bring appropriate gear. There's nothing worse than being inside all day and having to run through teeming rain in your expensive sport coat to the cab.
12. Look professional. I have seen attendees take the opportunity to "dress down" for trade events and wear clothing that is a little too "comfortable". You never know who you might meet at a trade event. If you want to take it a bit more comfortable, opt for business casual.
Post Show:
13. Follow up. Like a good golf or tennis swing: it is all in the follow through. Invite people to your network on LinkedIn, or send them an email. Offer value first, do some introductions and follow up with new prospect, media or people that you value within 72 hours.
Got any other ideas? Please send me some of your favorites and I can include them in the blog post.