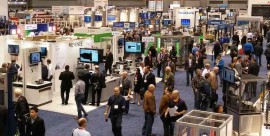 General Rules of Trade Shows
There are lots of rules in the trade show industry. There are rules for the venue, rules made by the show owner, union rules. If you know the rules you will save money, time and frustration. Rules are made largely to protect the safety of the people setting up the booths, the people who work in the trade show halls, and to protect and indemnify the hall owner and the show owner. They are also meant to protect the attendees – the people that visit the trade show and provide a good tradeshow experience for all.
Attendees Trade Show Rules
There are not many rules covering attendees to a show. Many industrial business-to -business shows will not allow children onto the show floor. In the case of pets, they are not allowed either, unless the pet is a service animal.
Sales at Trade Events
Show attendees are not allowed to sell or attempt to market to the exhibitors. It is just not fair. Go ahead and network, but a show is not a place for an attendee to sell their product. See the "suitcasing" definition below.
Suitcasing
Suitcasing is when an individual or a company tries to elicit business from visitors or exhibitors or acts like a sponsor and are not attached to the show. You will likely get ejected from the show if you try selling in this manner. This includes if you use the lobby or surrounding areas of the show to market your product or distribute marketing materials.
Outboarding
The term outboarding is when a company tries to take advantage of a show by holding a separate event in a nearby hotel or restaurant and hopes to attract attention or lure away attendees from the show. Many hotels will not let companies host private events around the event unless they are exhibitors.
Exhibitor Trade Show Rules
No Helium Balloons. Most trade show halls charge $100 each to recover "lost" helium balloons.
Exhibitors may or may not be able to bring (or plug in) their own electrical cords, power strips or even extension cords. Best rule here? Check with the hall.
Exhibitors may be prevented from screwing in light bulbs and even plugging in their own machinery. Many of these regulations are for safety, insurance and to protect the unions that depend on this work to keep venue workers employed.
Tradeshow Premiums, Give-Aways and SWAG
There are not that many regulations around premiums, except that you usually can't stand in the middle of the aisles and give away your trinkets, and many trade show operators will not allow magnets or magnetized goods as they may interfere with magnetic card strips that have been used in the past for attendee card readers.
Exhibitors are not easily able to distribute food, beverages, or alcohol. Most trade show halls reserve the right to serve and provide this service as they want to keep the revenue for "F&B" – food and beverage sales and employ their unionized employees. Always check with the hall and the show organizer. For food shows, best to check the specific rules.
Line of Sight Rule
Line of Sight rule this is THE big complaint by trade show floor managers everywhere. A Line of Sight infraction is where one exhibitor blocks the view of another exhibitor or creates an unfair advantage by blocking the Line of Sight of another booth. Show management or show floor manager has the duty to correct this situation and could include moving your booth or sign.
Excessive Noise
Excessive noise is forbidden and each trade show has a maximum DB level (decibel) that exhibitors must adhere and respect. Think 70 to 85 DB. This is equal to the noise created by a dishwasher or washing machine and there may be a specific time limit to loud noises.
I attended a trade show where one of the exhibitors was giving out scooters to all attendees in exchange for listening to a presentation. The excitement caused a big line-up that blocked several booths for hours. It got shut down and the exhibitor had to give out tickets and get rid of the big queue.
Contests or Prize Drawings
It is a best practice that if you are going to be doing something at your booth that may grow a crowd, it is best to include show management and let them know about the promotion that you are planning.
Sales at Trade Events
In many business-to-business shows you cannot sell to exhibitors or attendees. Exhibitors cannot use the aisles, lobby or common areas to sell or block booths with display material.
Distributing Materials
Exhibitors cannot distribute materials, swag, promotional goods to any other exhibitors and must limit selling activities to the confined booth space. For example, you are not allowed to drop off brochures to other exhibitors. Show management probably looks at this as a sponsorship and revenue opportunity.
The "No Photography" Rule
This is a pretty hard rule to enforce, especially with the abundance of cell phones, these days and the trend of exhibitors promoting branded photography in their booths. Taking pictures or video of other exhibitors parts, machinery, and booth graphics usually contravenes the exhibitor and attendee rules, and it happens a lot.
Fire Marshall Rules
Anything that contravenes fire code is strictly illegal. Any exhibit or demonstration that has smoke, fumes, has fire, or explodes needs to have prior approval by the Fire Marshall. Too much paper, or any other combustible material stored or garbage collected in a booth space for example, could be illegal. All components of a trade show exhibit must be non-flammable, of course. If you have a vehicle as a display item, it must have minimal gas in the tank and battery removed. Any uses of containers or machinery and equipment that used gas which can be deemed dangerous such as propane gas, will need to be approved.
Height Rules
Height rules vary from show to show, but most shows in North America an "inline" booth (that is a booth with other booths beside it, on both sides) has an 8-foot height limit. Island booths however, or Split-Island booths have a much higher height limit: think 16-18 feet.
Floor Covering at Trade Shows
Carpet is normally mandatory unless you can prove for some reason that you do not need it, such as your machinery operates or demonstrates better without carpet.
Labor in your booth
At trade events you will normally have to hire union labor if the hall is a union hall.  In a "Right to Work" state you do not have these restrictions. If your booth can be erected in less than 60 or 30 minutes and does not need tools, you need not hire any labor, but always check the individual hall rules.
Moving in, Moving out, Breaking down
Exhibitors cannot break down or dismantle the booth property early than the close time of the show. Note that the move-in and move-out times are scheduled by show management and show management has the right to put you at the end of the line if you miss this important time slot. Best to communicate with the driver or company that is shipping your booth to the show to make sure that they have exact instructions on when to check in at the truck-marshaling yard.
Exhibitor Insurance Certificate
Exhibitors usually have to prove insurance before setting up their booth. This is normal and is controlled by show management a few weeks before the show.
Credit Card on File
The Exhibitor needs to have a credit card on file. Usually you cannot move out until your booth charges are settled with the contractor or with show management. Best to keep the credit card on file and watch any booth charges to your account. If there is a suspicious or unauthorized charge on your booth, settle it at the show, during the show.
Cancelling or Downsizing Booth Space
Exhibitors are not allowed assign or sublet their trade show space, even if it is empty. Check your contract's fine print. If you have to cancel your trade show space, and this does happen from time to time, you are responsible to the trade show operator to pay for your full space costs, even if you do not use it.
Security
Most shows will have some security and video equipment for general security of the show floor, but it is up to the individual exhibitor to understand and control their own security needs. Best to lock up valuable parts and components such as laptop computers.
Getting a "Variance" at a Trade Show
Knowing your show rules is your best defense when it comes to having a successful and stress-free trade show. If you feel that you may have made a mistake, or have a problem, it is best to contact your show operations department early in the game and get or apply for a variance to a rule or a situation. Understand though, show management does not usually want to take the bullet on a potentially very emotional topic from an exhibitor who may feel harmed at the show.
These certainly are not all the rules when it comes to trade shows. Best to check with the operator and the hall to understand rules that may affect your booth space and situation.
Have you had a surprise at a trade show? Please share any experiences that you may have had, we would love to hear about them!
Like this blog? Join our enewsletter. One click unsubscribe. www.customerattraction.com/join