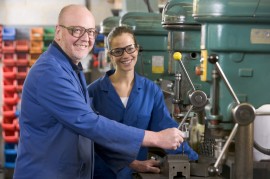 You've probably heard stories from business owners about how they sunk countless thousands of dollars, hours of manpower and a huge emotional investment into an innovative, creative and never-been-done marketing campaign – and in the end, it didn't deliver any measureable results.
You may have even been a part of a story like this. It happens and it happens often and when it does, the cycle is usually the same: angry managers, angrier directors, even angrier executives, a few days of agonizing and back-and-forth meetings, and then it's decided to go back to the drawing board, start from scratch and see if creative gold can be struck again.
The tragic part of this oft-repeated scenario is that the main players—management, marketing and creative teams overlook one of the oldest and most effective and cheapest forms of marketing: word of mouth.
Every time you have an interaction with a customer, good or bad, you've given them something to say about your business. Maybe they found something with you, that they really wanted or needed at the lowest price, or maybe they really appreciated that extra effort when you offered to help them find or learn more about something their area or subject of interest. There are many things they could be saying about your company to other individuals in your target audience. So how are you making the best of an opportunity to spread the word about your business?
Sure, they might say positive comments to friends or family if the subject happens to come up at any point and they remember to mention how the service was that day. But that's a very narrow avenue.
As a business owner the opportunity is to take advantage of the channels that give customers a chance to talk about how they thought you did. In today's market, there are more avenues than ever before to spread the word, good and bad. So as always, providing the best possible customer experience, is more important than ever.
Does your website and other social media work to spread the word? Do you have a comments section on your site for customers to provide feedback? If not, have your developer implement one and use it to open a dialogue with customers. Are you on Facebook or Google+? Keep it active and open for people to post and share reviews about your business. Do you list your business on local directories that allow for reviews, like Yelp? Ask your best customers for profiles and testimonials that share their experience with your business. You can even offer incentives like small discounts or an extra item for free in exchange for an honest online review.
Word of mouth is a powerful marketing. It's blunt, honest, and comes from a third party who has no real stake in the business. While many may believe that it's not worth worrying about because it can be beyond their control, the fact is that a combination of good service and multiple methods for customers to talk about you can get the reviews rolling. It all comes back to a core rule of business: focus on the customer.
texas title loans
What do you think? Do you look for other customer reviews before doing business with a company? Do you find it's an effective form of marketing? We'd love to hear your thoughts!