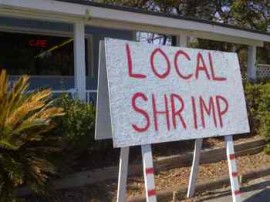 I have been compelled to write this blog for a long time now. For years I worked in retail stores, at one point was a store owner, and like everyone, I am a frequent customer in retail stores. I am a first hand witness to the importance of customer attraction in the retail world.
1. Are you having a problem attracting traffic into your retail store? Have you noticed? What has worked in past to bring customers into your store? Did you have a period of time when no one came through the door? This is where a list works. Make one. Have someone else help, who is not emotionally attached to your business. Often, storeowners and shopkeepers are get too close to the problem that they are trying to solve. An obvious thing, such as constructing a well thought-out, punchy store window, is a great start to attracting more clients in through the door of your retail business. What about your signage? And lighting. But what could be impacting more is what is missing. What is not working for you? This is your low-hanging fruit. First, fix the things that are negatively affecting your store. This can be a difficult exercise and looking at and acknowledging the truth often hurts, but ignoring it could be a bigger problem for your retail business. EG
2. Hire Great Staff. You can train behavior, but you can't train attitude. I always advise to hire staff with an outstanding customer-focused attitude first, and train them on how to be a good in retail later. Remember that people buy from people that they know, like and trust. Treat your staff like gold, invest in them, train and mentor them and just as importantly, have fun. They will reflect this in their day-to-day dealings with customers.
3.Look Busy and Welcoming. There is something about a busy store that makes people want to visit. Kind of like a busy restaurant. Ever looked into a busy restaurant with lots of cars in the parking lot and thought, "We should go and find out what all the fuss is about". We have a local shop, that, as soon as the weather gets nice, they keep their door propped open. It's amazing how something so small, makes it so easy for people to just wander in.
Take cues from your customer on how they want to be treated. Do they look like they want help or do they want a "no pressure" experience. My wife shops exclusively a shoe retailer because of the way the staff treat her when she is there. They consistently say "Hi there. My name is Ashley. If you need anything let me know. Otherwise, I'll just let you browse". Then if she starts taking things off the shelf, someone is there, asking the right questions to see how much help she needs. Very simple but big impact.
4. Customer Experience. Customers are the lifeblood of any business. Ask yourself, "How was their 'Customer Experience'"? It goes without saying that you should be treating your customers well. But you need to be better than your competitors. Maybe it is your in-store sampling, offering a coffee as they wander, carrying purchases out to their car, or simply opening the door for them. Maybe you chat with their kids, have a little place to keep them amused. Perhaps you put water bowl outside your store for their dog and offer doggie treats. Talk to your customers and get to know them. What do they like? What would they like? Do surveys. Have a third person contact your customers on the phone and ask them for their opinion. At Customer Attraction we call it a "Voice of Customer" study. You will be amazed at the insights and what you find out. And what a difference it can make to your business.
5. Be Everywhere. Get involved in your community. Let people know about your brand. Join an association or the Chamber of Commerce if that works for you. "Word of mouth marketing" is one of the most powerful ways to send out your message. Consider affiliating with a charity or a cause of your choice. Attend networking events. Find those magnet customers that know a lot of people and don't be afraid to ask for referrals. And don't be afraid to let your customers know. Have a bulletin board in your store with event pics that include you and your staff, and of course, make sure it's all over your social media.
6. Be Easy to do Business With. This may seem like common sense but given a choice, I always frequent businesses that are easy to do business with. I have actually walked out of and away from places that seem like too much work. For example, a retailer that posts a notice or makes it known that they don't like credit cards because of the bank charges, just leaves a bad taste. A customer should never be told how they have to pay for something they are purchasing from you!
7. Get Good at Marketing. There are so many ways to market and sell your products. For many businesses, the face-to-face experience is still the best way of doing business. Even so, you can promote your business on FaceBook, Pinterest, Twitter, Kijiji, Ebay, and Craigslist, as some examples. Don't forget about the value of blogging (after all you are reading about this on a Customer Attraction blog) and remember that at every point ask for your customer's email address. Remember the value exchange: offer discounts, special offers, contests, bonuses, and sample product in exchange for this information. Email addresses are a trusted commodity and you must earn this trust and ensure that there is value for the customer in joining your list. Don't forget about your customer's street address too. "Snail mail" is old school but it still works. An attractive piece of mail with a coupon brings customers into your store!
8. Take Care of Your Business Environment. Ever walk the streets of Manhattan? I do all the time. I see shopkeepers scrubbing the sidewalks, cleaning the windows in the early mornings while on my run. This is the normal start of their retail day. Taking pride in your surroundings, keeping your displays fresh and organized, taking care of your merchandise are a fundamental part of creating a pleasurable retail environment. One of my idiosyncrasies is a clean and tidy washroom, and it truly makes my family nuts. But as weird as it may seem, it will reflect on your business. And, depending on your business, it can be an opportunity to showcase products. You have a captive audience—make it work for you!
Have we remembered everything? If you have any other suggestions, please comment below. If you are interested in learning more about any of the suggestions in this blog, send me an email.
Interested in more Customer Attraction? – Join our newsletter (form is on the right) >>>>>