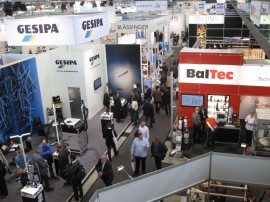 I was inspired to write this blog about How to Drive More Traffic to Your Trade Show Booth, when one of our clients asked a question:

How can I get traffic to my trade show booth?
This is a difficult question. Like many of the marketing and trade show questions I get, the answer is, it usually comes down to planning. If you break down the trade shows into sections it's a bit easier to answer. I always divide tradeshow marketing into three segments: pre-show, the show and post show.
Consider the following strategies and tactics to get more visitors into your booth:

Pre-Show
Invite people. Invite them by phone, by email, snail mail and by fax. Just invite them. According to the Centre for Exhibition Research, attendees are much more likely to visit your booth if you invite them.
Consider sponsorship. Companies that sponsor promotions such as signage, drinks or a mobile app at a trade show get an increase in the number of visits to their booth.
Design a great booth. Have eye-catching, engaging demonstrations. Make your booth simple to walk into. Have memorable graphics. Use good lighting. Plan for multimedia presentation.

Secure a good spot. Get a good location, near a valued partner or a busy corner.
Be memorable. People remember an interesting booth and will keep coming back. You are competing with hundreds of booths. Interesting carpet, unique displays, machinery and lighting all help.
Promote the show. Promote it everywhere you can. Your website, your email signature, your invoices, and on social media.
At the show
Appeal to the senses: Attract using sight, taste, touch, smell, and sound.
Be welcoming. This seems like common sense, but by employing open body language and warmly welcoming people you will attract more potential buyers.
Bring business cards: Have business cards visible and easily accessible for people to pick up.
Use logo wear for your staff: Golf-shirts, oxfords, or other clothing with your logo not only makes your booth look uniform and professional, but as your staff wanders the show, it spreads your brand.
Use Social Media channels. YouTube, Twitter, Linkedin, FourSquare, Pinterest and Google +. Plan your content, learn the hash tags, promote your partners, and promote the show, the town, industry, facility, your fellow exhibitors and suppliers at the show.
Demonstrate innovation: Remind people why they should buy from you. Use words and pictures on your graphics, displays and signage.
Feed your audience: Coffee, water, mints, popcorn, chocolate, fruit and show snacks. Keep your prospects coming back to your booth.
Host the media: Have a public relations event. Invite the media, feed them and make your announcements.
Press Room: Be creative and help the press tell your story. Prepare press kits and be creative. Remember you have to sell your story to them first. Make it easy for them.
Bring appropriate brochures. Many brochures get discarded after the show. So bring what you need, no more and no less.

Host an in-booth event. If your booth is big enough, consider having a wine and cheese event in your booth just after show closes. Hire security, invite your customers, suppliers and partners.
Use MultiMedia: Video, animation, and graphics. Show your competitive advantage by using computers, displays and artwork to explain complex ideas and technologies.

Speak at the show: Demonstrate knowledge leadership at the show. Speak about a technical topic and better still, invite your customer to share knowledge and share the stage.
SWAG: Also know as trade show give-aways or premiums. Bring bags, books, T-shirts, cloths, lip balm, and items of high perceived value. High visual impact. Remember the value exchange. Don't just hand out items with out exchanging information.
Post Show
One common challenge for many exhibitors is proper trade show follow up. Remember to follow up the sales leads generated at the show. Send them a letter, a fax, an email, and a phone call. Send them a brochure or product samples. Remember that not all trade show leads or prospects are ready to buy, so prepare to put them into a lead nurturing program before throwing them over the wall into your sales group.
Develop a post-show follow up sales process and follow the process. Make it your process.
Related Post: 87 Things That You Need to Bring to a Trade Show:
https://customerattraction.com/trade-show-exhibitor-checklist-87-things-you-need-to-bring-to-the-tradeshow/
Have we remembered everything? If you have any other suggestions, please comment below. If you are interested in learning more about trade show planning, email us and we will send you our trade show Ultimate Show Planner Template.
Like what you are reading? Join our mailing list. We promise not to spam, one click unsubscribe > www.customerattraction.com/join