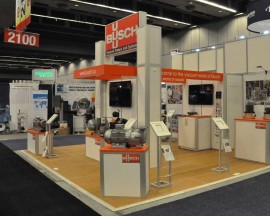 Top 10 Rules of Trade Shows
Whether it's something to brag about or not, I get to more trade shows than anyone else I know. So I get to see a lot of successes and mistakes that exhibitors make. This led me to create my own Top 10 Rules of Trade Shows.Rule # 1 The "Three Second Rule"
You are competing with hundreds, maybe thousands of other booths for your share of eyeballs, in order to attract potential prospects into your booth. Your graphics, key words and images have to project an image that hits your prospect right between the eyes. Three seconds is all you've got. Make it count.
Rule # 2 Get a Good Booth Position
This might seem obvious, but it takes planning.
Exhibitors often have specific preferences, such as being near a particular exhibitor, or on a corner, or near traffic areas like a washroom, close to big booths or close to food concessions.
Trade show organizers often award points to their exhibitors to entice them to come back to the next show. The more points, the more seniority you accumulate when rebooking for the next show. This system usually rewards space and consistent exhibiting.
If you want a premium location make your decision early to participate in a trade show, because in this case, the early bird truly gets the worm.
Rule # 3 Make a Plan
Many companies have the best of intentions when it comes to trade show marketing. But stuff happens. Travel. Quotes. Installations, brochures, staff, and not to mention family life and if you're lucky, vacations.
We are very busy people.
So if you're busy, like everyone, the best way to execute a project is to have a plan. Yes, that's right—put it all on paper. It makes the whole thing a lot less overwhelming, and breaks it into manageable, executable chunks, some of which, broken down this way, you might even be able to delegate.
Make a plan. Execute the plan. Measure the results. I call it the PEM principle.
Here are some (but not all) of the elements that should be included in your plan:
Budget
◦    start early with a draft budget; you can always add/revise it; but start somewhere
Hotel Room Reservations
◦    I always do this very early in planning; big shows sell out quickly and rates go up
Message
◦    everyone and everything should carry the same message
•    Booth parts, graphics, video, machines, parts and layout should all support the message
Goals and expectations
◦    Ensure overall team and individual goals are clear
•    Identify the partners, people and exhibitors we want to meet and work with and the strategy to do so
Promotions and media
Rule # 4 Know Your Trade Show Rules
I like trade shows. They spurn innovation and communication, collaboration and networking. I like to see companies send their best teams to shows, to exhibit, create value, gather interest, have fun and do business together, to create wealth and employment for our industry.
There are lots of rules at trade shows. Facility rules, association rules, contract rules, labor rules, overtime rules, signage rules, line-of-sight rules, food and beverage rules and of course, the hosting organization's rules.
Knowing your rules is critically important. Not knowing, or ignoring the rules can cost your time, money, and lots of aggravation.
One important trade show rule is called the "Line of Sight" rule. It basically says that you cannot block other booths visuals and visual line of sight. I have made this mistake before as an exhibitor, before I knew about the Trade Show Rules. Fortunately I was able to plead my case with show management and make good with my neighbours.
Rule # 5 Bring Back Boothmanship
"Boothmanship" is the art of trade show selling.  Sadly, in our fast-paced and plugged-in world, I believe that we have left this behind. Trade shows are a unique selling environment. It takes planning and coaching for your staff to become part of the success in trade show selling. From body language, greeting style to eye contact and even shaking hands with a prospect; all these are crucial in the first impression.
The more organized and put together your booth environment, the better your entire booth staff will be at attracting and making a welcoming, knowledgeable first impression on show attendees. From that comes the resonant first impression of your company and your brand. It sounds simple, and it is. But it is amazing how many exhibitors fail to follow this simple rule..
When thinking about boothmanship consider some of the following:
Offer value first to the attendee and treat them like gold.
Dress your booth staff in similar or in custom shirts to be easily recognized.
Ask open-ended, intelligent questions. Arm your sales staff with lots of them.
Stand up. Unless someone has a medical reason, everyone should be standing in the booth and open to receive customers.
No eating or drinking in the booth.
No reading in your booth. No using computers, tablets, reading newspapers or mobile phones in the booth.
Smile. We communicate 90% non-verbally so body language is critical.
Remember that your best trade show booth worker might be someone in a non-traditional sales or marketing role in your organization. Consider another front-line person, for example.
Have a working schedule for your booth staff and stick to it.
Don't badge surf.
Consider renting staff if you are short-staffed. Modeling agencies know their talent and can help immensely with short-term labour needs. We tried this once and were so impressed that we tried to hire them full time.
Rule #6 Set Up Your Show Metrics
Determining your success at trade show marketing is critical. How will you measure your success? What are your goals? This might take looking into the future, but it is certainly a worthwhile exercise to be done far prior to showing up at the event.
There are many reasons to participate in trade shows that can all be measured:
Inquiries
Create sales opportunities
Attract employees
Grow your brand
Attract investors
Gain new distributors or partners
Introduce a new product or service
Demonstrate or look for innovation in your industry
Conduct competitive intelligence
Networking
Attract and create Public Relations & Media opportunities
Remember that there are many "non-transactional events" that happen at trade shows and these should also be captured (and assigned a dollar value) in your Trade Show Report.
Rule #7 Create a Detailed Budget
Your budget is, of course, part of your plan. But knowing all the costs involved in a trade show is just good business. Will you bring your own carpet or rent? Do you need to purchase a lead scanner machine? Who is shipping your booth? Can you get funding from distributors, manufacturers or partners? Will you set up your own booth or rent labor from the show contractor? Do you need insurance?
Rule #8 Create the Best Booth Property and Graphic Images
How is your booth looking? Do you need a new booth or maybe freshen up your booth graphics? Maybe you just need some new accessories to punch up and take advantage of that corner location that you secured.
Freshening up your booth graphics is one of the long lead-time items when it comes to displaying at a trade show. It can sometimes take weeks to book a photographer or graphic artist to create the images that you need to visually tell your story.
Consider using models if you are going to place images of people in your graphics. Having to replace your booth graphics if an employee moves on to a competitor, for example, is expensive and wasteful.
Rule #9 Trade Show Report
Publishing your trade show report is a great way to remember and celebrate your trade show wins. For those companies that do many shows across different industries these reports can remind you what you did right, where you could improve and where you may want to change. Use a word document, include show statistics, booth pictures, floor plan, goals, team members and non-transactional events.
A non-transactional event is something that happens at a show that would have never happened if you did not exhibit. I always assign a dollar amount for each event.
* You meet an editor that may want to do a story on your technology
* The president of a company you supply comes into your booth
* Dinner with a prospect
* You met a potential employee
Rule #10 Trade Show Follow Up
You can be the best Trade Show Rock Star on the planet, but if you choke on the follow-up, you might as well have saved your multiple thousands of dollars and not exhibited. This is where many trade show exhibitors fall down. It is hard to understand why trade show follow up has become the "dirty little secret of trade show marketing". It is just a process. The process of lead follow up should be published in your trade show plan. If you need help with this, consider engaging a qualified outside marketer or a contractor who has this single responsibility.
Related Posts
How to Drive More Traffic to your Trade Show Booth https://customerattraction.com/how-to-drive-more-traffic-to-your-trade-show-booth/
Interested in more Customer Attraction? – Join our newsletter (form is on the right) >>>>>