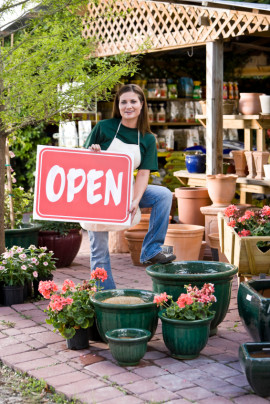 Your 10-Step Customer Attraction Plan
Customers are the bread and butter of any business. These 10 easy steps will grow your business and attract customers today!
Be Visible
Customers aren't going to be attracted to you if they can't see you. Once you've identified your target market, figure out the spaces they frequent. Whether that's online in virtual spaces like Twitter, Facebook or LinkedIn, or real spaces like shopping malls and cafes. Get your product and advertising out there.
Create
Offer your customers something new and make sure you're doing it often. Whether it's blog hits, tweets, Facebook posts or images. Intriguing content will attract viewers, and viewers mean potential customers.
Promote
Once you've created that intriguing content, get it out there. Social media is a powerful tool for getting your advertisements and your product news out to a wide audience. According to the Google Engage Conference in 2012, 86% of smartphone users notice mobile ads.
Connect
Respond to customer inquiries. A dedicated company can gain new customers by cultivating positive experiences with the customers they already have. Positive customer experience is one of the largest drivers of positive word of mouth.
Network
Foster relationships with the big players in the field. It is a great way to gain more leads into a larger customer base.
Keep it Fresh
By always offering your customers something new, you keep them interested and engaged. Email newsletters are an excellent way to keep customers up to date and aware of your product. Newsletters can also be great tool for drawing in people with exciting news and offers.
Be Generous
Everyone loves free stuff. Free samples are an optimal way to get people experiencing your product hands on and creating customers who would not have taken the initiative, or were previously unaware of your product or service.
Have Fun
Throw a product launch party or allow people to tour your operation. By creating a buzz around your company and product or services you open your door to customer leads.
Understand the Needs
Understanding your customer allows you to better reach them and create sales. Knowing where your audience is and what they are looking for, your company can also save the dollars on costly marketing ventures that may produce few results.
Analyze
You've got all your product and service information out there, you've got people experiencing your product through free samples, seminars, launch parties and open houses. Now, take the information you've gained frm those experiences and analyze it. Remember what worked and what didn't, where did the most leads come from, which events created the most buzz, and after which event did your company see the largest rise in sales. Analyze your results and focus your efforts in the right places. This can also be said for online ventures.
By analyzing web traffic, key words used to search for your company, and determining which social media venues are the most popular for people locating your product, you can concentrate your efforts and dollars where you get the most payback.
Customer attraction is about being visible, concentrating on your current customers and potential. Have you done creative things in your business to make your product or service visible?
Share it with us here.