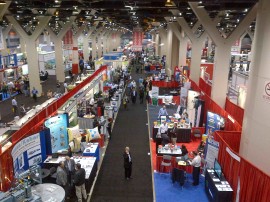 Trade Show Exhibitor Checklist: 87 things you need to bring to your next Trade Show
Planning and executing your exhibition at a trade show involves countless details, which can be overwhelming as you try to fit it into the course of your daily work. It's the details that give your booth and display the polish and impact that can make you stand out. There is nothing worse than an exhibit that looks thrown together and amateurish.
I have always set trade show planning aside as its own project, complete with a timeline and lots of "check lists". This way none of the details are lost and your set-up, exhibition and tear-down are as hassle-free as possible. There are always things that will crop up, but a comprehensive plan will reassure you that the details are taken care of and will help mitigate those problems.
The creation of a "show binder", in my mind, is a fundamental necessity that can make or break your show experience. Your show binder should contain your exhibitor's contract, including trade show plans, all show orders, show space contract, budget information, utility maps and sketches, cell phone numbers and important contact information for salespeople, contractors and key show personnel.
My advice: make a duplicate and put it on a USB memory card or save on DropBox. If you have a PowerPoint presentation, put it on this memory key too. Do NOT ship the binder with the show materials. Keeping it with you will ensure you have everything you need to resolve issues, should your booth get waylaid.
If you are a straight-forward attendee, people simply attending a show, the list is simple:
Trade Show Attendee Essentials:
Trade show registration paperwork / attendee name badge:
Business cards
Pens
Mobile phone and charger
Hand sanitizer
Trade show booth plan, created beforehand, of the booths to visit
Show floor plan map
Many tradeshows have apps with cool features, that include maps of the show floor. To make the most of it, download the app and familiarize yourself before the show.
Exhibitor Essentials:
If you are a trade show exhibitor, checklists will ensure you don't miss out on the details.
Office/Booth Supplies:
Adhesive Tape (transparent)
Batteries
Business card holders
Brochure stand
Calculator
Cell phone chargers
Cover cloth for display parts / samples (with logo)
Container/organizer for sales lead slips
Customized lead form (to gather extra information)
Extension cords and power bars
Envelopes
Highlighters
Markers
Nametags for employees
Pens
Paper pads (with your logo if you have them)
Paper towels
Scissors
Stapler
Tablecloth with logo
USB memory key
Cleaning supplies:
Carpet cleaner
Glass cleaner
Disposable wipes
Garbage pail (These can cost $25 to rent at a trade show!)
"Goof-Off" cleaner
Garbage bags
Trade Show Tool Kit including:
Bungee cords
Double adhesive tape and spray adhesive
Carpet tape
Cordless drills
Electrical tester for 120V
Glue
Box-cutter knives
J-Bar
Hammer
Putty knives
Screws, nuts and bolts
Screw bit set
Screw drivers with Robertson bit
Straight edge
Touch-up paint
Measuring tape
Nails
Plastic shrink-wrap roll
Velcro tape
Zip ties
Spare parts:
Fuses
Graphic computer files
Replacement parts
Light bulbs
Spare graphics
Wear parts for display machines, if applicable eg. belts
Convenience:
Antiseptic hand cleaner
Antacid stomach medicine
Breath mints
First aid kit include bandages, antiseptic, Ibuprofen and Acetaminophen
Facial tissues
Healthy snacks: Bottled water, granola and protein bars, nuts, dried fruit
Lip balm
Mirror
Tide To Go Stain Removal Pen
Sewing Kit
Brochures, Consumable and Promotional Items:
Bags with your logo
Unpersonalized business cards
Brochures, spec sheets and annual reports
Candies, mints and/or chocolates
Lanyards for salespeople
Give-away shirts
Press Kits
Sample kits
Salespersons business cards
Swag give-away premiums
Spare logo'd shirts for employees
VIP swag gifts for important clients
Signage:
"Looking for Salespeople" or "Looking for Distributors" signage
Company logos
Machine logos
Electronics:
Camera / Video camera
Computer monitor(s)
iPad display unit(s)
Internet hub or stick
Mini refrigerator
Presentation laptop and power supply
Vacuum
Furniture:
Rugs with logo
Chairs with logo
Tables
Display shelves
Food:
Bottled water
Granola bars
Related Post:
How to drive more traffic to your trade show booth: https://customerattraction.com/how-to-drive-more-traffic-to-your-trade-show-booth/
Have we remembered everything? If you have any other suggestions, please comment below. If you are interested in learning more about trade show planning, email us and we will send you our trade show Ultimate Show Planner Template.
Interested in Customer Attraction? – Join our newsletter (form is on the right) >>>>>